The ruin of old Knepp Castle - now no more than a single tower – stands on a grassy mound next to the A24, just south of Buck Barn crossroads. It dates back to the 12th century and was built by William de Braose, lord of the Rape of Bramber - one of the most powerful supporters of William the Conqueror.
Originally a fortified retreat from Bramber Castle, it was used principally as a hunting lodge and stood in the heart of a thousand-acre Norman deer park. It would have been surrounded by deep ditches (still visible today) most probably filled with water, overlooking the River Adur which, centuries ago, was much larger and navigable.
Various derivations have been suggested for the name 'Knepp' – from the Saxon 'cneop' for the crown of a hill; or 'knappen' meaning to hold fast; 'knappe' for a knave or knight; or even the French word 'nape' for the skin of a stag.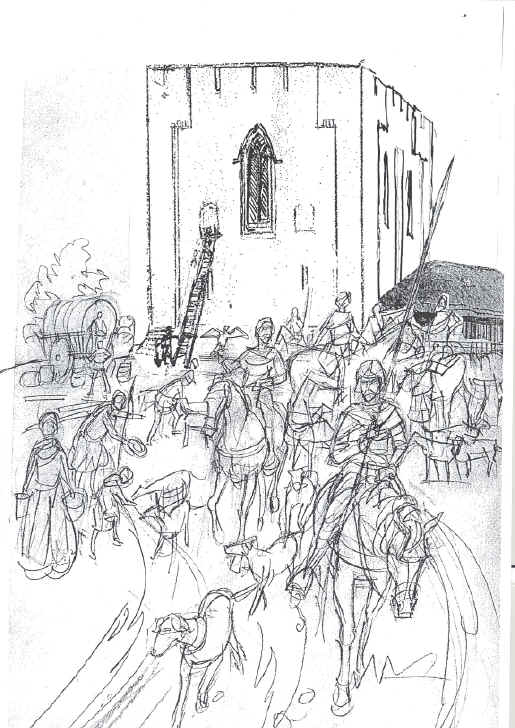 King John stayed at 'Cnappe' many times in the early 13th century, hunting deer and wild boar with deer hounds. The deer park was also renowned for its oak trees – a valuable resource that not only provided acorns for the park animals but could be felled for timber in times of need. During the first War of the Barons, King John used 'heart of oak from Cnapp' to build engine towers to protect Dover Castle from Prince Louis of France.
Subsequent kings – Henry III, Edward II and Richard II – also stayed here, under the auspices of the de Braose family. In the late 14th century Knepp passed by marriage to the Dukes of Norfolk, and thence, in 1573, into the hands of the Carylls – a Catholic family of ironmasters who presided over Knepp for two centuries.
Sometime in the late 16th century the deer park was broken up and the land enclosed for agriculture. The castle was eventually destroyed by Parliamentary troops, or Roundheads, to prevent its use as a military asset by the Royalist Cavaliers during the English Civil War.
In 1762 the site was robbed for hardcore to build the Horsham-Steyning road, now the A24.
The area around the old Knepp Castle ruin has been an open access area since 2002. Parking at Floodgates has become a problem as we have become busier and as such we are considering a car park at Floodgates but for now, please park on the highway or at New Barn Farm if you wish to walk to the ruin.