A clear blue sky, full of rare winter sun accompanies us on the annual visit to Brighton's Seedy Sunday. A vibrant cornucopia of people, produce, contributors, and organisers come together, this year at the Brighton Girls Sport and Dance Centre, to swap and sell collected seeds of all manner of plants. From heritage vegetable varieties, to ornamental annuals and perennials; seed potatoes and onions; fruits, shrubs, and trees. Not only is this a chance to chat with the plant-loving local community, it also provides a vital service to biodiversity. Seed swapping preserves old varieties and species that have become unfashionable or rejected by large corporate seed suppliers, who tend to promote disease resistance, high yield and F1 hybrids (that produce sterile seed). Their practices create an ever-decreasing gene pool of plants that can eventually lead to catastrophic consequences. A famous example was the 1970 corn leaf blight epidemic in North America. 710 million bushels of corn were lost, the market relying on a single corn species.
Armed with our own cache of saved seed, we beavered our way through the tables of wares, bagging such prizes as five old varieties of peas, various herbs, beetroot, carrot, courgette, chillies, broccoli, and beans – many with their own fascinating backstories. Climbing bean 'Tamila' from Garden Organic originates from the village of Kostilnyky in western Ukraine, named after the donor's best friend. 
Valentines' Day is the recommended moment to sow aubergine, peppers and chillis. With love, Suzi laid the prepared seed trays in the propagation unit, taking advantage of the fast-increasing daylight hours, adding spring onions, shallots, winter and Asian salad mixes, some basil and lemon basil and always-needed parsley to the sowing schedule. While a comprehensive vegetable plan can be time consuming, it has proved invaluable. We reap multiple benefits from maximising our use of limited space and time, to keeping track of sowings and harvesting, and having an in-depth record of what worked well for the following years decision making. We have begun a similar system for ornamental seed sowing too, part of an ongoing push for sustainability in the gardens. Having a clear idea of what we might want to add to the kitchen and rewilded garden and a rough estimate of how much space we have to plant means we waste less energy, compost, and water. Annuals with edible flowers, long-flowering or late-season nectar sources, or even good winter habitat plants, such as the seed heads of wild carrot, are some of the drivers of our choices. 
In preparation for the coming season in the kitchen garden, taking advantage of both early frosted ground and the Knepp volunteers, we ran a day of constructing hazel obelisks. We will need plenty of supports for climbing beans in the veg beds, sweet peas, and some newly acquired hops – Humulus lupulus 'Fuggle' and 'Challenger', the former being England's most famous hop, the latter a heavy yielder, with which we eventually hope to try some brewing! We set about preparing some of the longer hazel stems that have been coppiced from traditional coppicing woods on the estate, leaving the thinner, wispier branches for weaving. It is not quite as easy as one imagines – since we wanted the structures to be portable, we made temporary stations from unsown vegetable beds and embarked in pairs on tying together five or seven stems, each around three metres long. Needless to say, not every stem is straight or behaves in the way one expects. Some sounds of surprise and sometimes frustration emanated from the assembly as structures collapsed or keeled over. Gradually, we began to familiarise ourselves with the feel of the materials, choosing stems with thicker ends to weave tension into the horizontal bands, tying them in place until additional layers made the uprights sturdy. By the second round, a more relaxed and creative feel meant imaginative flourishes were applied at will and satisfaction rates had soared. Nine diverse supports are now ready and waiting for positioning, shaving hours off planting at the busiest time of the season. 
One of the reasons we wanted to make our own structures rather than buying in fabricated alternatives, is to use natural materials. They provide habitat for invertebrates and fungi as the wood gradually deteriorates. Charlie and John focused their attentions on rebuilding a large insect hotel that we had dismantled from the north facing wall. We wanted to reposition it in a sunnier spot and replace some of the components that had degraded over time, potentially harbouring diseases, or predators from historical overuse. There is no suitable time to move an established structure like this, as, all year round, there could be insects living there in one or other stage of their lifecycle. Mason bees hatch around May, and most species would have finished their winter hibernation stage, but many solitary bees lay their eggs in cavities shortly after emerging. So, on balance, with a nod to the boom-and-bust cycles of nature, we decided to go ahead with care while we had the time and labour. There is an argument that we should not be creating artificial spaces, and that it is better to cultivate your ecosystem to provide diverse niches and nesting spots naturally. Most gardens in the UK would be too small to provide a meaningful range of habitats, and in urban areas where habitat loss is high, some form of insect hotel is generally thought to provide important benefits. As is so often the case, the details matter:  catering to specific habits of different insects and invertebrates, or seasonal maintenance to avoid fly maggots or pollen mites that can attack solitary bee cells, are important, and often overlooked. A study of bee hotels in Marseille, France in 2020 found their construction to favour an exotic bee species to the detriment of the native population. The diameter of the holes can be a deciding factor, with 1mm making the difference for some specialised bees. We will be doing our homework before filling in the gaps with fresh timber.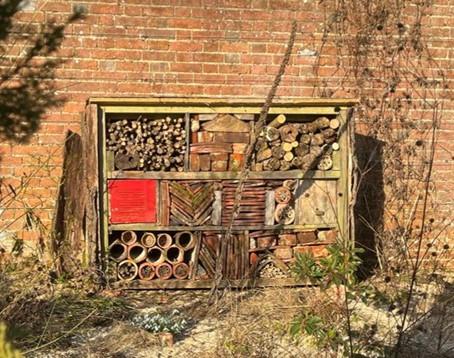 As the month draws to a close, the dark mornings recede. The working days are held in brackets; the sun rises obligingly as we arrive, spreading a slanted rose-blush glow and sets in orange and pink striations as we leave the garden. Life is bubbling up around us: burnished yellow tassels of hazel catkins wreathe the trees like festive lights; daffodil trumpets unfurl their buttery heads; purple cups of crocus spangle the ground, and winter cherry blossom bursts from naked branches. The heralds of spring are ushering the grey days behind us. 
Moy Fierheller    Deputy Head Gardener    February 2023 
Photos courtesy of Charlie Harpur, Suzi Turner, Moy Fierheller  
What we're reading; 
Entangled Lives by Merlin Sheldrake 
https://seedysunday.org/about
The southern corn leaf blight epidemic – PubMed (nih.gov) 
1970 Corn Disease Shook the Stockmarket – Victory Heirloom Seeds (webgrower.com) 
https://www.beelife.org/
https://www.sciencedirect.com/science/article/abs/pii/S1146609X20300485?via%3Dihub
Insect Hotels: A Refuge or a Fad? | The Entomologist Lounge (wordpress.com)