As the vibrancy of spring starts to leach out of the landscape, the ha-ha meadow by the house is a swaying vista of bleached parchment, shades of wheat, silvery ash and bone, desert greys. In the garden the seed heads of spring-flowering king's spear (Asphodeline lutea) – like a stick of aniseed balls – contrast with the pastel pairing of wild bergamot (Monarda fistulosa) and milky bellflower (Campanula lactiflora 'Pritchards Variety'). Umbrellas of lemon-yellow fennel flowers rowdy with all manner of bees tower above the blues and whites of yarrows, lavenders and catmints.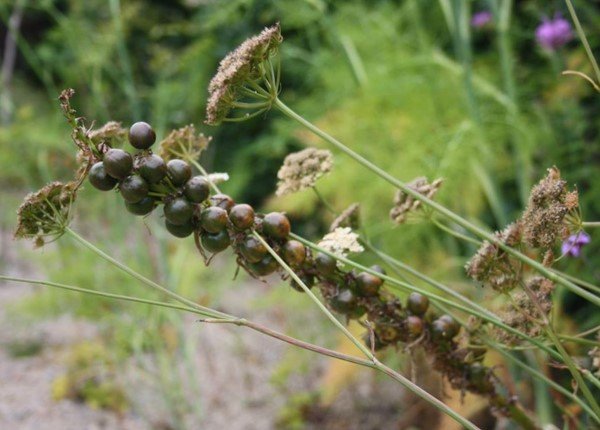 The seed wand of king's spear (Asphodeline lutea)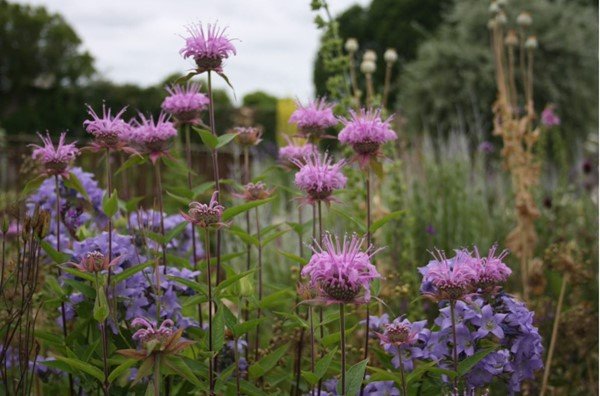 Wild bergamot (Monarda fistulosa) and milky bellflower (Campanula lactiflora 'Pritchards Variety') in the Kitchen Garden
It's easy to become bogged down with the spring annuals as they die back, making the garden feel tatty: the poppies, aquilegias, nigella and foxgloves tipping the balance of browns and greens, challenging our 'limits of acceptable change'. We selectively edit, leaving some as structural markers and habitat sites, and clearing around emerging showpieces. The safaris bring a steady stream of visitors. We were relieved to hear the judgement of one older gentleman, who confided as he left, "At the beginning I found it offensive! But once you said I could continue to cut back and keep an edge… well I've changed my opinion". High praise indeed.

On the terrace, Karen continues to hand-clip the formal box topiary 'umphs', shaping them for their aesthetic form, but also to improve air flow. Like most gardeners in the south of the country we are focused on the twin threats of box blight and box moth caterpillar. In this more orthodox area of the garden, traditional good husbandry is necessary to retain these sculptural forms that complement the scale of the house behind them. Our heads were buried in the centre of the mounded circles of box, cutting out dead limbs and clearing away leaf debris. We emerged coughing and sneezing, satisfied that our labours will let air in, reducing the damp, dark conditions that favour the fungal blight and caterpillars, and giving the plants roots access to the rain. A foliar spray now, that contains nitrogen for growth and the natural fungicide sulphur, plus a generous mulching of our home-made compost come autumn should help the shrub's resilience and growth.
Further adversity soon followed for the garden, the whole country and Europe, as an official heatwave hit the UK in the third week of the month. Record-breaking temperatures were recorded from Scotland to the south, the highest being 40.3°C in Lincolnshire. It marked a milestone in Britain's climate history with the first ever record of forty degrees, exceeding the previous high by a margin of 1.6°C. The impact of this comparatively short burst of heat ranged from a national emergency being declared by the government, to buckled railway lines, melting runways, wildfires and dried-out waterfalls.
So, the design of the rewilded garden with its eye on a drier, warmer future was really put to the test. Now that we have removed the large, thirsty, high maintenance croquet lawn and surrounding soil beds and replaced them with an undulating topography of various mixes of sand and crushed concrete, we are no longer compelled to maintain a picture of green turf and lush, productive plants. Instead, we now have plants whose natural habitat is dry and free draining. This adds another layer of resilience. These plants have developed coping strategies for periods of drought and heat, with silver leaves to reflect the sun's rays, for example, or small hairs on their stems and leaves to trap humidity. Not yet a year in the ground, we were relieved to see most of the plants coping – particularly the smaller perennials planted bare-root or in 9cm pots. Their roots have lengthened in the sand and crushed concrete to find moisture beneath. The trees and shrubs planted with larger root balls of compost have not had to seek out resources and seemed less resilient. The compost dried out faster, their leaves sagging despondently. Irrigating was essential on those areas where we had overlaid the planting with a seed mix, but we also ran the risk of leaf scorch if we left it too late in the day. With the perennial seedlings having only emerged in May, we wanted to ensure that they both survive and establish well. Many are already in flower: the deepest blue of Siberian larkspur (Delphinium grandiflora) next to the pale-yellow cups of Ozark sundrops (Oenothera macrocarpa 'Silver Blade') and the feathery umbels of wild carrot (Daucus carota).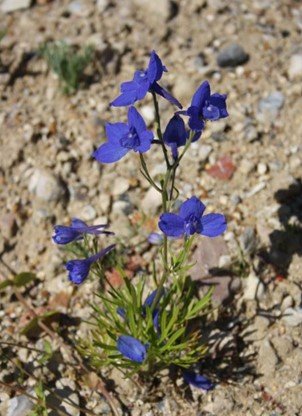 Siberian larkspur (Delphinium grandiflora)
Ozark sundrop (Oenothera macrocarpa 'Silver Blade')
This second year of the no-dig veg beds in the Kitchen Garden has seen a much greater yield and variety of produce compared to the smaller raised-brick beds they replaced, despite this month's low rainfall. We've been busy harvesting currants and blueberries, radish, spinach and beetroot, dwarf and broad beans, salads, fennel and onions, and plenty of peas for traditional family shelling whilst watching the Wimbledon tennis. With the surge in heat came inevitable bolting, the salads showing particularly impressive speed. Instead of pulling them out, we left them, adding complexity and opportunity. Their roots feed the soil biota, their flowers and seedheads are food for insects and birds, and their height casts shade on plug plants we've grown on from seed and planted between their feet.
We already see how the climate crisis is beginning to affect us and nature in many ways – how native flora and fauna will have no choice but to move further north to escape successive waves of heat. The severe weather gave us a window into our possible future: a world of extremes that has already impacted many countries around the world with much greater, devastating consequences. If our green spaces can be made resilient and become part of a chain of islands that provide refuge for wildlife and plants, if they can become living corridors connecting biodiversity hubs of nature reserves and rewilding projects, perhaps we can give future generations a chance to experience nature as it was when our great-grandparents were children.
Moy Fierheller Deputy Head Gardener July 2022
Photos by Karen Finley
What we're reading:
The History of Bees by Maja Lund