The first day of 2022 was a curiously warm one, a balmy 16.3°C recorded in St James's Park in London. By the time we returned to the garden after the holiday weekend, temperatures had plummeted to –2°C. Days of clear blush-rose early skies followed, the landscape suspended in frost, paper white morning moons above. A perfect opportunity to tidy and clean the greenhouse and potting shed and start experimenting with making up our own composts.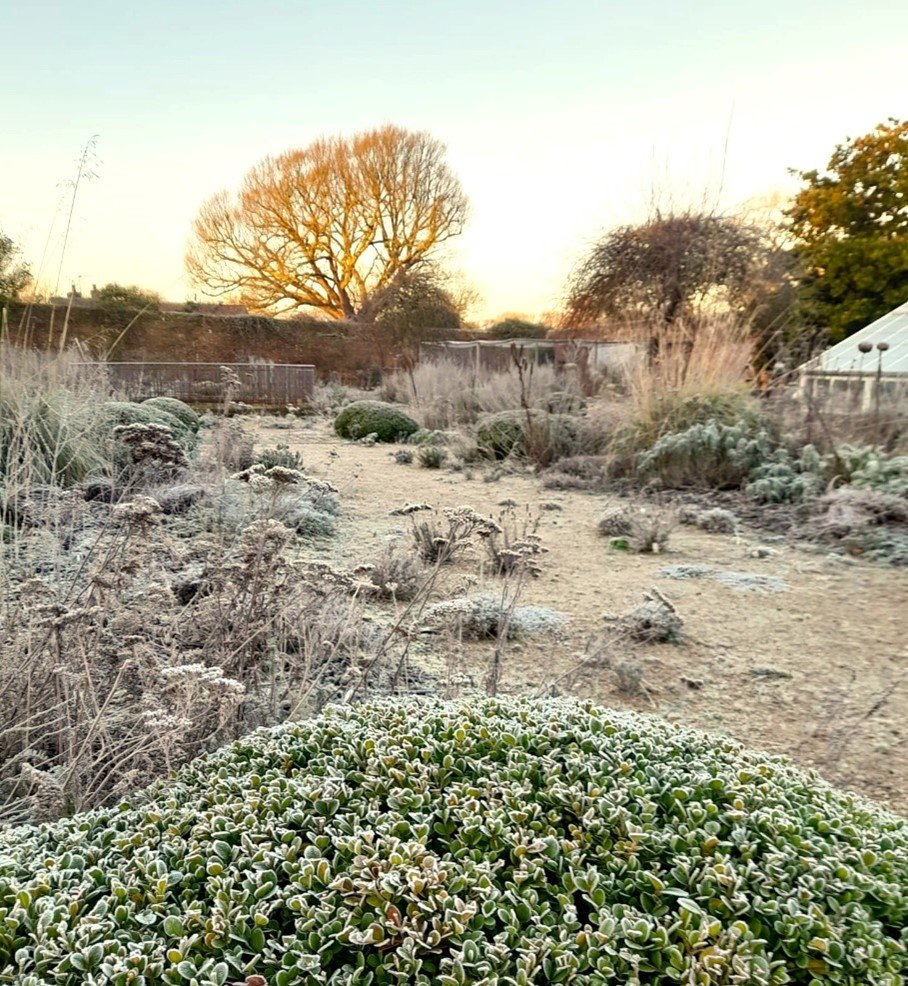 Back in mid-December the government launched a peat consultation proposing measures to end the retail sale of peat in the horticultural industry in England and Wales by 2024. Peatlands are the UK's largest carbon store. Peatland soils can be over 10 metres deep, holding huge carbon stocks that have developed over millennia. According to a recent study by Natural England, carbon held in the deep peat soils of fens and raised bogs hold eight times as much carbon as the equivalent area of tropical rainforest. They cover three million hectares (around 10%) of UK land, providing flood mitigation, improving water quality and are a vital habitat for many rare species of birds, mammals, and invertebrates. Campaigners have been petitioning for habitat protection and alternative growing mediums for upwards of thirty years, but the industry has been slow to respond. The main users of peat are amateur gardeners (66%). The latest figures show three billion litres of peat extracted from fens and raised bogs are purchased from garden centres every year. Mechanised removal strips away the living layer, exposing peat to oxidation and carbon loss, lowering the water table, and degrading neighbouring bogs. The Royal Botanic Gardens, Kew in London is already peat free, and the Royal Horticultural Society's research shows that 97% of plants can be grown successfully in alternative mediums such as green waste.
In the potting shed, we had loaded up trugs with our own compost and leaf mould, sand left over from the Pool Garden landscaping, and loam taken made from the turf that was removed from the Kitchen Garden and stacked undercover two years ago. It has decomposed into quite a fine crumbly texture now and since we're lucky enough to have several grassy areas, we're planning to start another small turf stack to keep up our supply and reduce our transport carbon footprint. For the last two seasons we have bought in a successful peat-free seed mix and a potting-on mix, so we concentrated our efforts on emulating their colour and texture. Some time was spent sieving the materials to remove stones and twigs, and we mixed a few recipes, varying the ratio of sand, soil, and leaf mould for seed sowing, and adding compost for the potting-on blend. We duly labelled three trays of two different mixes and sowed them with honesty seeds (Lunaria annua), confident their rounded cotyledons (the first set of leaves to develop in a seedling) are immediately distinguishable from any other plants whose seed may have been dormant in the loam. Our main aim is to produce a mix that is not so nutrient rich it burns the developing roots and which retains moisture while holding its structure. A light watering and we await the magic of germination.
When the frosts weren't suspending works, we were up ladders on the side of the castle, imitating the wider estate's herbivores browsing habits, pruning the roses that cloak the walls. It is a therapeutic occupation, giving a sense of creative control while imagining the future of scent and colour contained within those tiny emerging buds. In previous years, we would be removing selected old stems on the plant's lower reaches and cutting back laterals to maintain the vigour of a plant, in readiness for the arrival of the small cherry picker. We would normally spend five days working on the top six metres above ladder height, but this winter we were mindful of the breeding pair of white storks that nested on one of the chimney stacks last year, who successfully fledged a chick. Unsure whether our presence and the rather irritating and piercing safety alarm on the cherry picker might deter them returning to nest in the same place as they often do, we decided to veto the plan and allow the climbers to run amok until summer. Last year the storks over at the campsite had begun nesting by mid-February but the last young to fledge was here on the castle at the end of July. A summer prune at height in August should keep the climbers from becoming too trifid-like, and we'll book in an earlier winter session at the end of the year.
The time saved was put to good use with the vegetable seed order for the coming season. Although there are quite a few organic seed suppliers, they tend to be relatively small operations and after the frenzy of horticultural interest sparked by the pandemic, sell out quickly.
We also spent an enjoyable hour chatting with Sonia Rego from Omved Gardens, who run a small-scale urban green space in London that focuses on reconnecting their diverse community with nature and food-growing in collaborative ways. They have embarked on a seed saving network with the intention of preserving seed sovereignty, storing, sharing, and swapping seed as well as collecting data on what plants prove successful in a changing climate. In forging relationships with other gardens to increase their growing capacity and seed volume, all participants benefit, freely exchanging organic open-sourced seeds that are not patented, genetically modified, or owned. We had collected plenty of mammoth dill, runner bean, and angelica seeds which we sent on and are looking forward to growing Waltham Place yellow white corn, Tenerife yellow bean and some Ice Queen lettuce.
Approaching the time to start sowing vegetable seeds always gives a frisson of anticipation, the experience of watching an infinitely fragile seedling push its way into being never failing to fill us with wonder at nature's resilience. As we wind our way through the Pool Garden and see the tenacity of those fourteen thousand small plants holding their nerve through frost and winds, it is a lesson in quiet strength of purpose. Nature seems always ready to teach if we only care to look.
Moy Fierheller Joint Head Gardener January 2022
Ending the retail sale of peat in horticulture in England and Wales – GOV.UK (www.gov.uk)
Ending the retail sale of peat in horticulture in England and Wales – Defra – Citizen Space
New major study shows importance of nature in hitting net zero – GOV.UK (www.gov.uk)
For peat's sake – Radicle (substack.com)
Thoughts on a practical peat free future…….. — The Community Garden
The pain of a peat-free UK? | IUCN UK Peatland Programme (iucn-uk-peatlandprogramme.org)
GTN Xtra – GTN Xtra – Issue 51 2021 – Plans to phase out the use of peat in the amateur horticulture sector (newsweaver.co.uk)
Life in The Garden by Penelope Lively