The Journey to Wilding the Garden December 2021
There was an audible sigh of release from the previous frantic week of planting, as all those annoying islands of chaos we'd had to pointedly ignore could finally receive attention. A little over 14,000 plants now pepper the undulating moonscape of Tom Stuart Smith's transformation of the Pool Garden. Crates and pots were sorted for recycling, leaves were herded into builder's bags to add to our growing leaf mould pile, sand brushed off tools and flagstones, and plastic labels taken off new trees and climbers.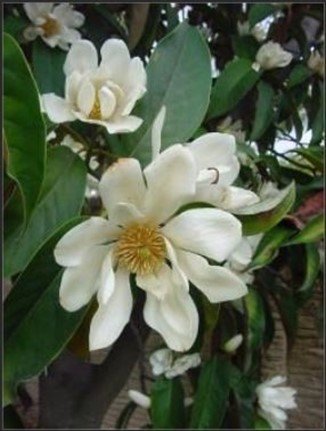 Magnolia doltsopa
With the Pool Garden planting being relatively late and the promise of colder weather, we were able to spend some time with a few of the more tender plants that we're overwintering in the unheated greenhouse. There is an array of species from many parts of the globe, all hailing from similar stony, free-draining habitats. Buddleia 'Silver Anniversary' chimes with many of the new Pool Garden plants with its woolly silver foliage, joining the icy-grey palette of several lavender and Phlomis varieties, Helichrysum orientale and Agave parryi. This buddleia is a dwarf variety with late-flowering, white, honey-scented blooms, a great autumn food source for bees and butterflies. We also have one of the parent plants from which it was bred, Buddleia crispa, also known as the Himalayan butterfly bush, where it grows in dry riverbeds and exposed cliffs at high elevations. Another native of the Himalayas, Magnolia doltsopa, is an evergreen small tree with its characteristic deliciously scented white flowers unfurling in Spring, although it can also be found in the sub-tropical forests of north-eastern India where it can reach a height of thirty metres.
The bell tree dahlia (Dahlia imperialis) can grow to ten metres, with enormous lavender flowers up to fifteen centimetres across, another late bloomer, hailing from central and southern America. We have a feeling that this one might be a real crowd-pleaser. From south-eastern Australia comes the snowy river wattle (Acacia boormanii), its sweet-scented yellow flowers blossoming on thin silvery, thorny stems. We note its tendency to sucker in its native region, often used as a screen because of this habit, and it will be interesting to see if it exhibits the same behaviour here.
All of these and a few more will go into the ground once spring warms the sand. When they've had a chance to acclimatise and establish some roots we'll leave them to fend for themselves next winter, with a fleece cover at hand for extreme frosts. The remaining plants seem to have settled in better than expected, many of the grasses arriving bare-rooted and tousled, now looking comfortably upright, the Primula auricula turning its flowers to the light, the Aster amellus 'Violet Queen's regal purple blooms defying the season.
A week of rain makes the ephemeral pond grow, the winter sky and pencil cypresses mirrored in the still water. No one quite knew how the undulating terrain of the sand and crushed concrete would respond to heavy downpours.
Moy Fierheller Joint Head Gardener December 2021