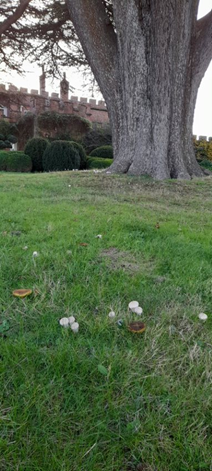 Waxcaps under the Lebanese cedars on the terrace
It's waxcap season, and a colourful array of diverse fruiting bodies begin to populate the lawn under the three immense cedar trees on the castle lawn. Only ever making a brief appearance, they are a very small part of what can be a vast network of mycorrhizae (branching, threadlike fungal filaments) that remain invisible underground for the rest of the year. They play an essential role in breaking down decaying matter, processing soil nutrients and making them available for plant roots to absorb, increasing the roots surface area and receiving carbohydrates in return In recent years new research has uncovered the importance of the Common Mycorrhizae Network – also known as the Wood Wide Web – where almost all plants benefit from these symbiotic relationships., Trees can even communicate through these networks, sending out chemical signals when, for example, they are under attack from some pest or pathogen, 'warning' and stimulating a defensive response in neighbouring trees. 'Mother trees' can selectively provide nutrients to their young through mycorrhizae, and even nurture ailing trees nearby.
Waxcaps are becoming rarer due to the loss of old, undisturbed grassland to agriculture and development. In the last one hundred years the UK has lost 97% of its meadows and grasslands. These species-rich landscapes can store up to a third more carbon than areas with limited diversity, so spotting waxcaps is a good indicator of a site that needs protection. Their defining features are a waxy coating, often slimy when wet, with widely spaced gills below. They are thought to require grass that is mown or tightly grazed. Having left the mower idle this summer the whole of the terrace lawn joined the adjacent smaller wild meadow area in unrestrained growth. We were concerned this might affect the fungi, but our fears seemed unfounded. We noted six different species in one afternoon. The relatively wet summer and the August cut and clear may have been helped them along. Alongside surveys by the West Weald Fungus recording group we will be sure to continue to monitor these fascinating fruiting fungi.
In a flurry of activity and a last-minute push, the bulk of the landscaping in the Pool Garden was finished: a view of sandy, stony dunes and dips, platinum, oyster, silver glints, coarse ridges and fine gravel flats surrounded by Regency era red brick walls. A little over 14,000 plants were delivered to the garden gate between light rain and bursts of sunshine, some species in their hundreds, some with only a single representative, the majority suited to nutrient-poor, free-draining soils. The work of unloading and allocation began in earnest. Although the areas on the design plans are divided into twenty-three numbered beds delineated by winding pathways, in reality the entire site will become a continuous sweeping mosaic of plants, with very little differentiation between the edges of beds or paths. Designer Tom Stuart Smith arrived the following clear, cold day and set to laying out predominantly small 9cm pots and bare-rooted grasses and perennials. For three days we observed with interest his method of placing accent plants, small trees or woody shrubs first, then layering species in clumps and drifts, finishing with single plants 'dotted' throughout as though wind-blown seed had grown where it landed.
James Hitchmough, Professor of Landscape Architecture at Sheffield University and a member of our garden Advisory Board, had collaborated with Tom on the design, further developing what Tom calls this "box of experimentation" with his meadow planting style. James' section covers a ridge running roughly south to north. His method is somewhat different to what we're used to. Lists of plants were headed up with indicators of which aspect a slope was facing and whether it was on a coarse ridge or the base of a sandy slope. He had previously determined the ratio of plants within a range on a percentage basis and with this intelligence we placed individual plants randomly wherever there were gaps across the area, after James had placed the 'dominant' plants. Accustomed to seeing planting in swathes and drifts, it was a novel experience for us.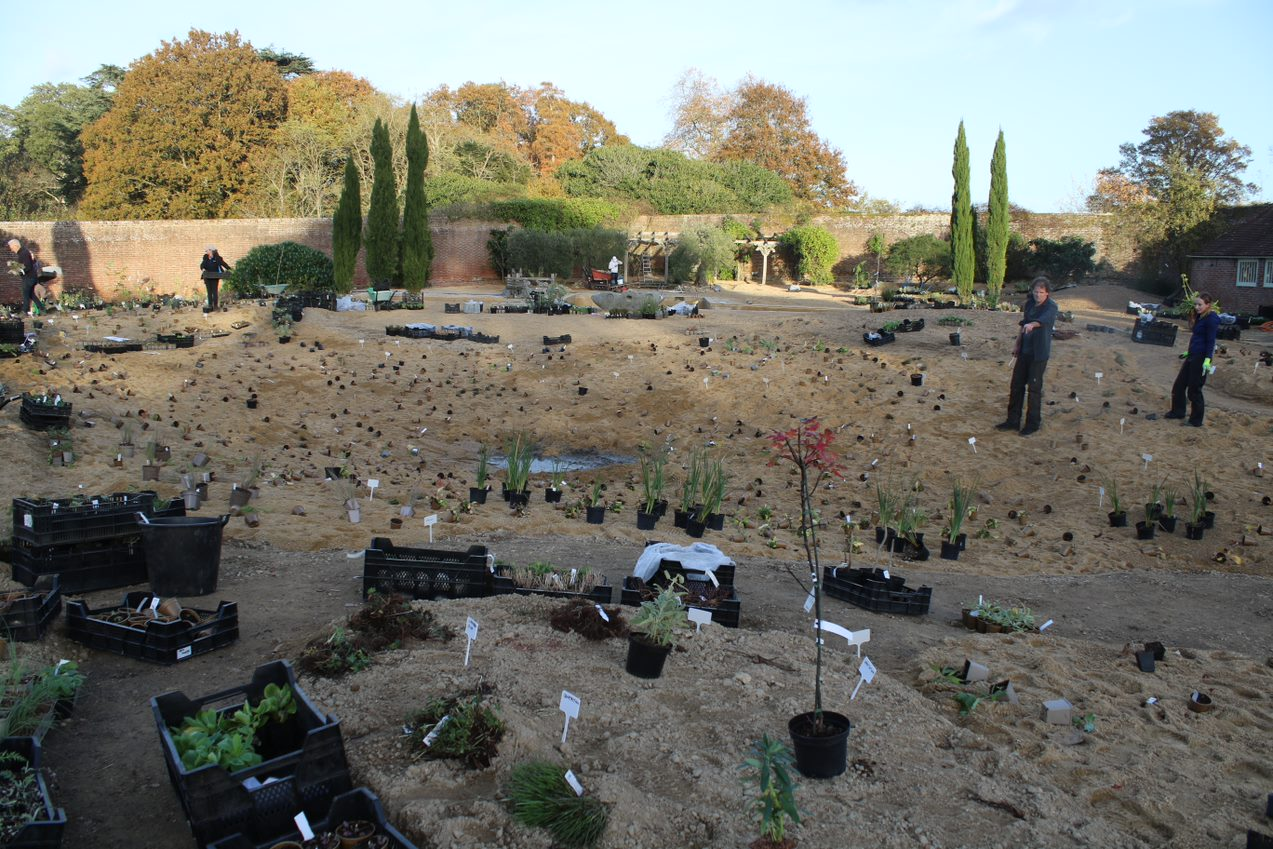 James Hitchmough (far left) laying out plants in the Pool Garden
James mentioned that this style of planting has been common in Germany for over fifty years; that if you have the right mix of species that won't out-compete each other, they will grow in a successive pattern as they would in nature.
Once all but a few areas had been laid out, we were incredibly thankful that an army of volunteers came into the garden to help us get the plants into the ground. Almost all the Knepp staff managed to give some of their time, giving everyone a chance to see the project at the very beginning. A general holiday air of sociability ensued that's been sorely missed during the pandemic. At the weekend a group arrived from Tom's office, kindly giving up their free time and curious to see Knepp and a design that's a little different from Tom's other projects. A fantastic turnout from new and existing Knepp garden volunteers completed the team. An incredible 7,500 plants were bedded in on a single day, the many hands not only making light work but also a tremendously enjoyable day of story-swapping and laughter.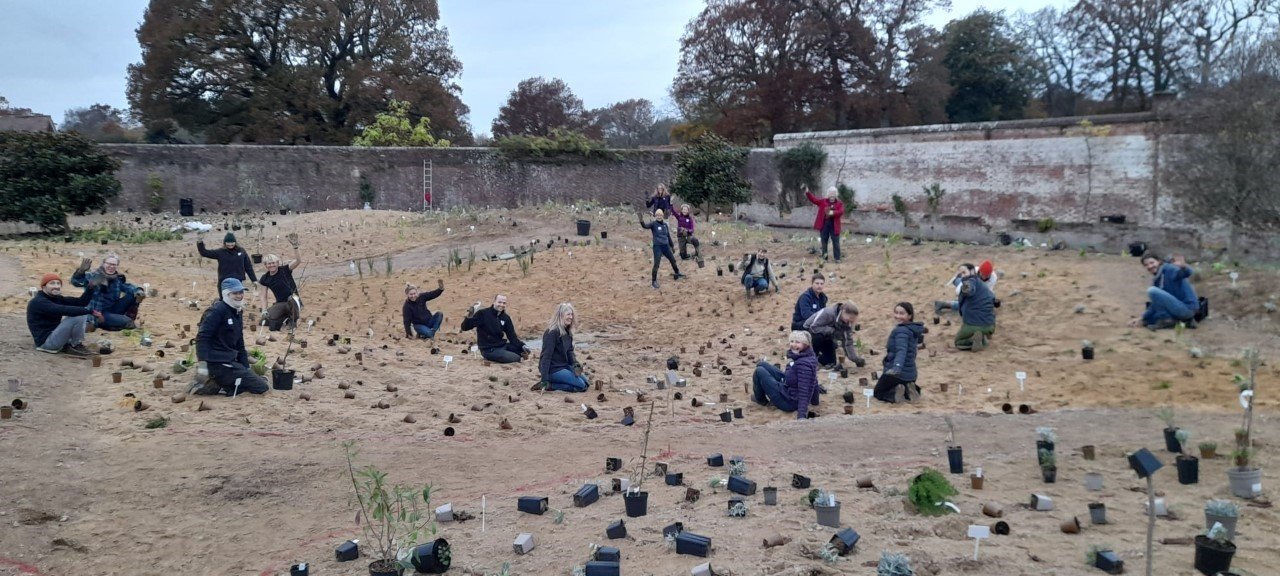 Volunteers planting an incredible 7,500 plants in what was formerly the croquet lawn in the Pool Garden
Shortly after finishing off the planting, James came to overlay a seed mix of 43 species of annuals and perennials across the whole of his area. Ordinarily James would be seeding to fill space while rooted plants establish, but here the mix is intended to provide greater diversity and opportunities for wildlife. Seed was mixed with sawdust collected from the sawmill on the Knepp estate and distributed by the handful, averaging ten to twenty seeds per square metre in two passes of the site. The sawdust holds onto the finer seeds preventing them from blowing away and enables the sower to see where seed has been laid. With a very light rake, some seeds requiring surface germination and others needing a light covering, we made sure the seeding area spilled over to the other side of the paths and into Tom's planting scheme, to reflect the natural tendency of all plants to spread. Luckily the day ended with a perfect light rain, ensuring the best start for these tiny islands of endeavour.
It seemed fitting that COP26 (The United Nations Climate Change Conference) was being held at the same time as the kickstart of our project in the Pool Garden. The conference, where 197 countries came together to form The Glasgow Climate Pact, pledged to keep alive the ambition to limit the rise in global temperature to 1.5 degrees. The global action plan focuses on four areas of mitigation, adaptation, finance and collaboration. We hope that on the journey of wilding this garden, we can always be discussing and learning new ways of increasing biodiversity, reducing habitat loss, chemical use and carbon footprints and supporting sustainable practices.
Moy Fierheller Joint Head Gardener November 2021
What we're reading
Finding the Mother Tree by Suzanne Simard
WaxCap Website : What are Waxcaps? : (aber.ac.uk)
The West Weald Fungus Recording Group – Home (westwealdfungi.co.uk)
Grasslands+ | Grasslands+ (grasslandsplus.org.uk)
HOME – UN Climate Change Conference (COP26) at the SEC – Glasgow 2021 (ukcop26.org)
COP26-Presidency-Outcomes-The-Climate-Pact.pdf (ukcop26.org)
James Hitchmough (@jameshitchmough) • Instagram photos and videos – watch James seeding the garden at Knepp on his igtv