Join Matt Wainhouse, Geoff Liddell and myself as we take a deep dive in to one of Knepp's magnificent oak trees. Matt is an ecologist undertaking a PhD in the ecology and conservation of heart-rot fungi, investigating how communities of fungi assemble in living trees, linking in with their function as ecosystem engineers. With the aid of a tree-corer, and Matt's in-depth knowledge, we learn a lot more about what's going on with fungi inside the tree, and not just from the fruiting bodies on the outside of the tree. Apologies for the mobile phone interference in the middle of the podcast.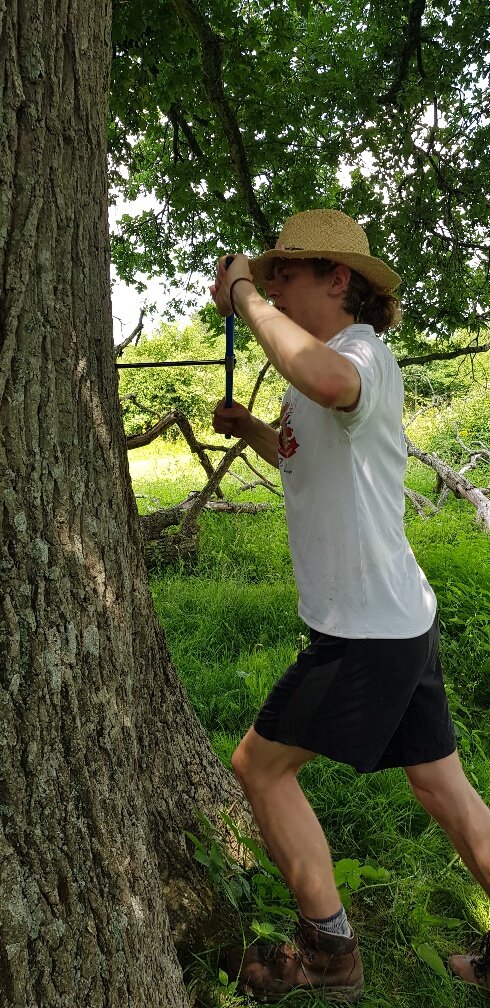 Matt, a fanatical naturalist and botanist in origin, became increasingly obsessed with the mystery of Kingdom Fungi leading him to jack in his day job to study it. Matt is a Principal Ecologist advising on habitat creation, biodiversity net-gain and natural capital. He is a Winston Churchill Fellow researching how international approaches to fungal conservation can be applied to the UK planning system.
Oxford grad and all-round clever-clogs engineer, Geoff Liddell, is more than just side-kick. He's a ska-skanking, fungi fanatic in a faux-fur coat. This superstar environmentalist and enthusiastic naturalist knows more about leaf hydraulics than your nan does about lavender-scented chintz linen. And you should see him turn the increment bore. Phwoaarr!!!!
Follow Matt on Twitter on @FungiandFlora to keep up to date with what he's up to.