This month, our various team leaders have all gathered to share our news:
Russ Carrington – Regenerative Farming in Shipley village – Calving is nearly complete for the new pedigree Sussex herd, which we bought from 3 different local farms to ensure a good variety of genetics in the foundation herd. Each group have been quarantined for 3 weeks as a biosecurity measure, but are now running as one group, including the bull called "Buccaneer". The herd are now grazing their way around Church Farm North with daily moves onto fresh grass and trampling old grass into the soil as they go – a technique known as mob grazing, which will help reinvigorate soil health and sequester carbon.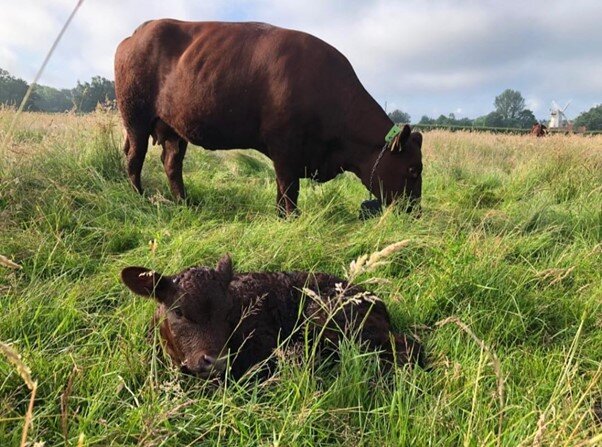 Penny Green, Ecologist –The Purple Emperor butterfly season took a while to get going this year, they emerged over two weeks later than they did last year and are still going, just about, as I write. They roost at the top of oaks so will no doubt have been battered by some of the downpours we've been having but have had a prolongued season with some great views had by some of the Knepp volunteer ranger team!
The Downland Villa (Villa cingulate) is a nationally rare bee-fly which was first recorded in Sussex in 2016. Two of our safari guides spotted a few of these wonderful looking bee-flies whilst leading a safari in July. This species is a beautiful pollinator as an adult but their larvae are parasitic – they flick their eggs in to other insect nests and when they hatch, the larvae will feed on the grubs of their host. We watched the female bee-flies dab the tip of their abdomen on the ground so that bits of sand and grit adhere to their sticky eggs, making them camouflaged and heavier. They then fire the weighted eggs into the entrance of their host's nests by flicking them with their hind legs.
The river restoration at Knepp has really come in to its own for dragonflies, with shallow scrapes, meanders and deeper areas all providing different opportunities for an array of different species. Last week we saw three male Southern Migrant Hawkers in aerial battles. It was amazing to see such a thing as this is a rare migratory dragonfly that is just starting to expand its range, coming across from the continent and into southern England. The same week Small Red Damselfly and a Willow Emerald were discovered whilst sweep-netting along the banks. We never imagined we would see a Small Red Damselfly at Knepp, as it's usually only found on heathland pools. Whilst up in the northern part of the estate yesterday I saw several pairs of mating Small Red-eyed Damselflies, this is a first for this part of the estate.
If you'd like to hear more from the wildlife specialists that visit the Knepp Rewilding Project tune in to the Knepp Wildland Podcast. Listen via our webpage: https://knepp.co.uk/knepp-wildland-podcast or tune in on your usual podcast platform (Spotify, Podcast Addict, Apple etc.)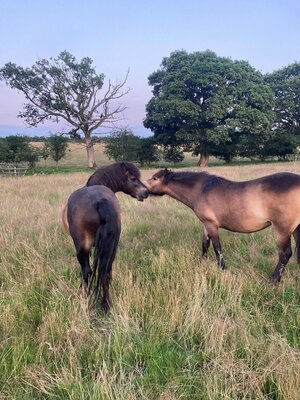 Rina & Amy run the Knepp Exmoor Pony project "KEP"– Will, our borrowed Exmoor stallion will soon be returning home having spent the last couple of months with our pedigree herd in the Middle Block. He was introduced temporarily to introduce some new genetics to our herds and has acted like a complete gentleman with our mares and their young during his visit, even being very tolerant and playful with their yearling colts who are due to remain with the herd in the hope they will mature into our future herd stallions. Our Southern Block mare-only herd continues to charge about, in between bouts of grazing around our stork nests which is wonderful to see and our "KEP" subscription riders continue to feed back on interactions with any Exmoors that they encounter whilst riding on the estate, which we really appreciate.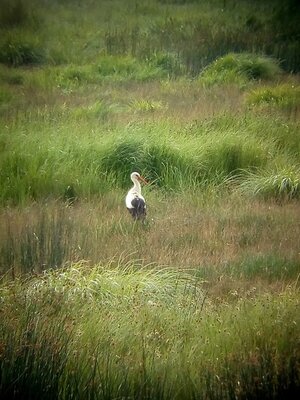 Lucy from Durrell – Throughout July our wild stork chicks gradually left their nests and we had a total of 14 chicks successfully fledge. They are still returning to nests in the evenings and occasionally trying their luck at begging the parents for food, but they have integrated into the flock nicely. They were joined at the end of July by our 2021 cohort of captive bred juveniles from Cotswold Wildlife Park, our partners running the captive breeding programme for the White Stork Project. This group of 27 juveniles spent 10 days in a holding pen getting used to the area before being released on 2nd August. It is a momentous moment watching these youngsters take their first flights to join the rest of the birds at Knepp. All of the juveniles are wearing our blue project rings and 10 of them are also fitted with GPS tracking devices so we can monitor them post release. So far they have remained close to the release area but as the weather has improved they have been seen exploring a little further and enjoying the rising thermals the better weather brings. They will continue to build muscle strength over the next week or so before they then head south on their autumn migration to warmer climes for the winter, it is likely our wild chicks will join them.

Our 2019 juvenile 'Marge', who was released on 12th August 2019 and became our first bird to fully migrate to Morocco, came close to making it back to the UK this year. However, north easterly winds during her journey meant that she found herself in western France instead. She is wearing a GPS tracking device which is still sending data every day but in July, for the first time since she left UK shores, we received a sighting report of her along with a photo in the Crossac region in France. It is likely she will return to Morocco soon on her autumn migration but we have great hopes of her making it back to us next year.

The White Stork Project has a team of 43 hardworking volunteers who help with monitoring and looking after the storks. Between March and July alone they dedicated a whopping 1,987.5 volunteer hours! They will be taking a well earned break over the winter months ready for the next breeding season.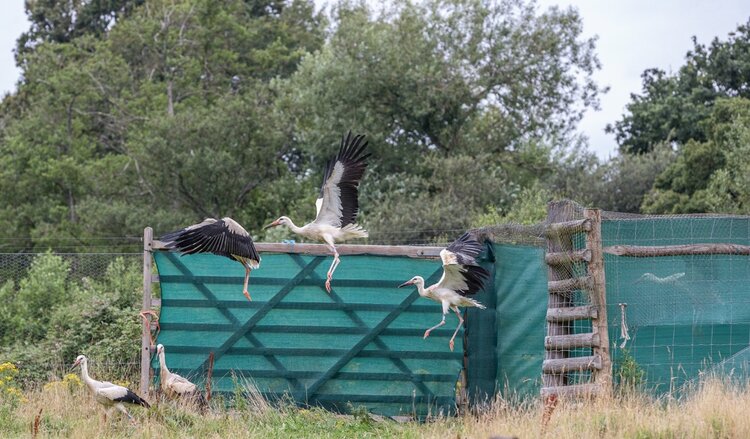 Beth – Operation Wallacea (Opwall) is a biodiversity research organisation that, among other projects, runs expeditions. Student volunteers join for the opportunity to work on real-world research and training programmes, alongside academic researchers.
We spent our summer at Woodgers (former Gun Club) where we set up our camp and welcomed 186 students to our training courses. The course is designed to train volunteers in necessary skills for careers in wildlife conservation. Some of the areas covered included:
Habitats – UKHab mapping of a site and training on the DEFRA Biodiversity Metric that is used to measure biodiversity
Birds – bird ID training, bird point counts, and mist netting as techniques to survey diversity
Invertebrates – sweep nets and pooters to collect invertebrates to be brought back to camp to identify and work out density and diversity.
Mammal surveying techniques – Camera trapping and DISTANCE sampling for large mammals
Rewilding – walking safaris with Knepp's fantastic safari guides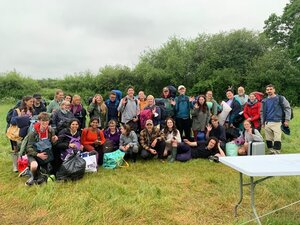 Some of the highlights of our season included our students bumping into Matthew Oates just as he saw the first Purple Emperor butterflies of the season, our trips to the White Stork feeding pen with Lucy Groves, and some of the fantastic guest lectures our students received from speakers such as Charlie Burrell and Dr Erica McAlister. The students had a fantastic time this summer and we got great feedback across the board. I speak on behalf of myself and our team when I say that we really enjoyed working with the Knepp staff and spending our summer at Knepp, and we look forward to what the future holds!
Joint Head Gardeners Suzi Turner and Moy Fierheller – The exciting journey of rewilding the Old Victorian walled garden at Knepp is now in its second year. We're applying what we've learnt from rewilding the larger landscape to this small scale, 1.5-acre garden and the adjoining one-acre orchard, trying to kick-start self-willed processes at small scale, increase biodiversity and create a really interesting, dynamic, varied and beautiful natural space.
We're delighted to have the wonderful garden designer Tom Stuart-Smith masterminding the plans. With him on our Wild Garden advisory board are Prof Mick Crawley, emeritus professor of plant ecology at Imperial College, Prof James Hitchmough, professor of horticultural ecology at the University of Sheffield, and Jekka McVicar, author and organic gardening expert, who have been charged with pushing our thinking out of the box.
Below is a link to the garden blog, which follows the story so far
Rewilding the Garden Blog — Knepp Castle Estate (kneppestate.co.uk)
Ian Mepham – Knepp Wild Range Manager – over the last two years we have been working behind the scenes to design and build an environmentally friendly chilled storage solution; we now have in place a state-of-the-art Co2 refrigeration system which, we are told, is the biggest in the UK!
Studies have shown that chemicals used in cooling systems, including fridges and freezers, are one of the highest contributors to greenhouse gases. Using the very latest technology we have now completely replaced refrigerants that have global warming potential (GWP) values of 600-4000 and ozone depleting potential (ODP) values of 0.02-10, using carbon dioxide, which has the lowest available GWP value (1) and no ODP value at all. Alongside this we have designed a water system that harvests the thermodynamics from the refrigeration system to supply and heat all the water for our butchery and processing facility.
The facility is now finished, and three butchers are joining my wife and I on the Knepp workforce, just in time for the new season's venison and beef. Phew!
We will be launching our new season's beef, venison and pork from 17th September, when we will have our click and collect service available again. All you need to do is place a click and collect order at www.kneppwildrangemeat.co.uk 24hr's before you would like to collect (Monday – Friday), we will process your order and get in contact with you to let you know it is ready for collection from our camping and safari shop.
Rachel at the campsite – It's been fun and games with the weather at the campsite, but a relief to be open after another 6 week closure this year.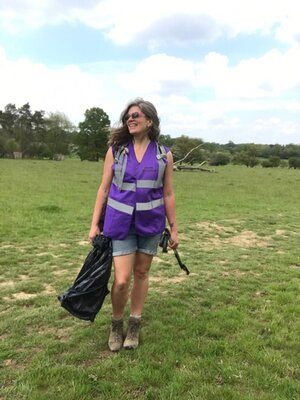 We now have over 60 Knepp volunteers walking the footpaths (not all at the same time!) Hopefully you have seen their friendly faces and purple vests out in the rewilding project. They have been wonderful at engaging with the public, reporting wildlife issues and keeping an eye on litter.

Our team of car park wardens have been busy welcoming day visitors, but we are happy to report that the number of people exploring the footpaths is significantly lower than 2020 and continues to fall as restrictions ease elsewhere. This year we had approximately 900 day visitors in June and 1000 in July, compared to 2500 in June and 3500 in July last year.
Ranger Tom – Hello, my name is Tom Garriock and I'm the newly appointed Ranger and Tree Safety Officer for the Knepp Estate. I'm delighted to be joining a fantastic team and dynamic working environment here and am eager to get stuck in. I have been touched by the warmth of the welcome I've received and the wonderful sense of community here at Knepp. I'm passionate about the UK's indigenous wildlife, natural heritage and about trees in particular. Previously I spent six years working as a ranger for the National Trust on the nearby Slindon Estate, with significant focus on public access and tree safety management. I am excited to apply this experience in my new role.
One of my first jobs here at Knepp has been to coordinate the resurfacing of the "Green Lane" bridleway with local specialist Geoff Langridge. The weather has been so wet that this has been somewhat delayed, but Geoff should be starting an extension of the improvements he has previously made on this track any day now. I have also begun to meet with our wonderful volunteer footpath rangers. This enthusiastic crew are out in all conditions, doing a brilliant job picking litter and engaging with our visitors. Their WhatsApp group is awash with wildlife sightings and some sensational photography! I'm looking forward to working closely with them to help communicate the conservation successes at Knepp as well as responsible behaviours in the countryside to our diverse visitor audience. I am also keen to build upon the positive relationship between the Estate and the local community and look forward to meeting many of you soon in the course of my work.
The Swallows Farm re-development continues … the wonderful old Sussex Barn is nearly repaired and will be the centrepiece Café. The shop will be a newbuild now that the modern concrete buildings have been cleared away and work on the access road has started albeit we are waiting for some chalk to build it and everything has been delayed due to the wet summer.
Wealdcross – we feel strongly that this horrific new town northeast of Buck Barn will be a catastrophe for the estate and us all, and are fighting hard on nature grounds to stop it. We hope everyone in the community feels the same.