Jason Emrich – Estate Manager
It's early June and summer is truly with us after such a dreadful Spring. It has been some years since we had such an abundant flush of grass and vegetation and the sheer noise of the birdsong is truly uplifting. Slightly alarming though is that many trees seem to be defoliating – probably as a result of a combination of late frosts, that biblical hailstorm a couple of weeks ago and sawfly larvae.
In the rewilding blocks our longhorn calving is nearing completion and for the first time one of the three herds (the southern block) had a completely problem-free and therefore unassisted calving, which is one of those happy markers of success for Pat, Toby and Andy who manage those herds.
On the farm in Shipley, our glorious new Sussex cows are about to start calving as well, and so starts the founding of a new herd of pedigree cows at Knepp under Russ' stewardship.
Other livestock news – we have a new Exmoor stallion on loan in the park where we continue to try to grow our pedigree herd of this endangered breed (rarer than the Giant Panda!). Two new foals were born recently taking the park herd to about 20 ponies. It is amazingly complicated trying to maintain a natural herd structure and our thanks to Amy and Rina who oversee this project and to all of our "KEP" subscription riders who help with observations and herd safety.
Red and fallow male deer (stags/bucks) are growing back their magnificent antlers (the fastest growing tissue in any mammal on the planet) and the females (hinds/does) are starting to splinter off to calve/fawn. Thankfully the long vegetation offers them some cover for this task and please please don't ever touch a baby deer tucked up on its own, as it will be rejected by its mother if you do when she comes back to feed it later.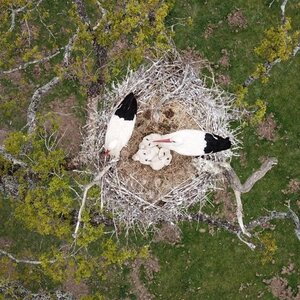 In stork news, we think we have about a dozen chicks about to fledge from 6 nests. That hail and a couple of torrential storms didn't get them all luckily but certainly did account for several chicks, and presumably an awful lot of other nesting birds. One of the stork nest trees was actually struck by lightning in that storm on Monday 17th May and astonishingly an hour later when the storm had cleared, half a dozen storks landed in the tree presumably checking in on their unlucky cousins. Two of the castle nest chicks have survived so far & any day now this will be the first rooftop nest of storks fledging since 1416 as far as we know, so we are all keeping our fingers crossed, whilst loving hearing their distinctive bill clattering. If you would like to get involved with the stork project, we now have a volunteer group of 40 people run by the conservation charity Durrell.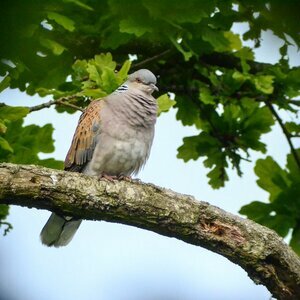 Nature conservation – an update from Penny: Once spring finally got going we have found that the number of Nightingales, Turtle Dove and Cuckoo at Knepp are continuing to do well, with another bumper year for all three of these nationally rare species. Knepp and the surrounding Shipley parish really are a national stronghold for these threatened birds and something to be very proud of.
The funky little Grizzled Skipper butterfly has turned up in all three blocks of the Knepp Estate and the new regenerative farm area. Look out for a little black and white moth-like butterfly flitting around open habitat.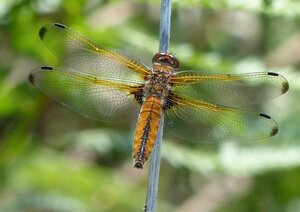 Dragonflies are emerging in great numbers with the rare Scarce Chaser and Hairy Dragonfly doing well on the river restoration and around Hammer Pond.
Aquatic plants such as Water-violet and Pond Water Crowfoot are doing very well indeed this year especially after the heavy rains!
And finally the volunteer rangers have been spotting all sorts of wonderful wildlife as they engage with visitors on our footpaths. Find of the month has to be the stunning green iridescent Rose Chafer!
Of course with all this good news and lovely weather, come lots of visitors, and we are acutely aware that some neighbours are really struggling with inconsiderate parking. We had to close our temporary car park for a week when it was so wet and appealed on social media for people not to visit during that time, and thankfully that helped a bit I think. We would just like to reiterate that we hope this will be a temporary problem, and once our café opens at Swallows, there will be a large all year-round car park open to all.
In terms of managing visitors, we are pleased to have appointed a new access ranger to our permanent staff. Tom starts in July after many years with the National Trust and as a dedicated access professional he will help us manage the estate's 25 miles of footpaths and the public that use them. One of those paths, from Sunt Farm to Lower Barn (for those that know the estate well) is being improved in the weeks ahead by Geoff Langridge with a new all-weather surface laid in what was a nightmare bog during the winter.
Tom will also help us continue with managing ash dieback which is such a devastating tree disease, and we are pleased to be paying a homage to the ash by planking some of the felled trees to make furniture for the new café at Swallows. At Swallows our master craftsman John Russell's team hosted a visit by the Shipley History society and another by SPAB to look at the restoration of the wonderful Sussex Barn at the heart of the project. I believe it was the history soc's first site visit since March 2020 and everyone was pleased to see friends and neighbours away from Zoom.
Elsewhere our building team has been as busy as ever, but sadly has just bid farewell to James and Owen our electricians and Karen our team leader is busy recruiting for a replacement whilst overseeing numerous projects.
At Pound Farm our food manager Ian is converting the farm buildings into a state of the art butchery with eco CO2 refrigeration, and 30 of the estate's workforce were given a guided tour of the project on our first gathering for a long time after lockdown. We finished the estate tour with a party at which we surprised Knepp's longest serving employee, Julie Alexander with a few pressies and praise to mark 30 years working in the estate office. Jules started her Knepp career administering the Castle Dairy, moved onto accounts to estate secretary and then estate administrator. She is at the heart of every project, tenancy letting, contract of employment and VAT return (she hates that last bit) and is thoroughly admired by all of us.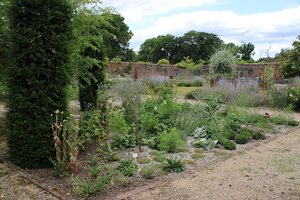 Also on that tour we were treated by the gardening team to their exciting project revolutionising the walled garden to a gardening rewilding project. 5000 plants have been added to the top half of the garden (which was a lot of work!) which is starting to burgeon with life. Moy & Susie, helped by Laurie from the safari team had their first garden safari last week for the public… and we hope this will soon be a new and regular feature of life at Knepp.
The Woodgers (former gun club) summer camps are starting as I write this; the utterly wonderful OPWALL team who are running these are about to be met by their first batch of students to learn about ecology. This is our first foray into formal education and the opportunity bizarrely came from Covid, as Operation Wallacea normally run their courses overseas, but of course cannot for the time being.
Our campsite, safaris and the stork café have been open for some time now and despite some dreadful weather at the delayed start of the season, the atmosphere has been brilliant and Rachel and her team are reporting that everyone is just so relieved to be on holiday at last. We had our first local community safari on 12th June which was well attended and well received. Please do sign up via the website if you would like to join one of these.
So with all this wonderful news and atmosphere, it is doubly depressing that Horsham DC seem intent on zoning the land north east of Buck Barn as a new town with 3,500 houses. Despite all our efforts, and the fact that nationally/ globally nature conservation and climate change are generally viewed as important issues, "Wealdcross" on our border is still their favourite site for a massive development in the district. So we are now faced with a very long and expensive campaign to try to halt this and have instructed top London lawyers Mishcon de Reya and a barrister to join the campaign team. The campaign will cost a fortune, and we so hope that the community will come together and help the West Grinstead Action Group fund this as we cannot believe anyone wants this.
Finally I must extent huge praise to the Knepp Estate team, many of who live as well as work in the local community – there are currently 50 footpath volunteer rangers, 12 car park wardens, 10 baristas and shop staff, the stork team, Russ' farm volunteers, 20 safari guides, and the excellent campsite seasonal team who help our permanent staff of 50 on the estate. Knepp is truly burgeoning with life – not just nature, but also visitors and employees. It's going to be quite a party at the end of the season!