Russ Carrington – Regenerative Agriculture at Knepp
Knepp Estate, renowned for its pioneering rewilding project, is embarking on a new regenerative farming venture to help broaden the reach of nature into the West Sussex landscape and produce food in a way that rehabilitates the land. Russ Carrington, former General Manager of the Pasture-Fed Livestock Association will be leading the project.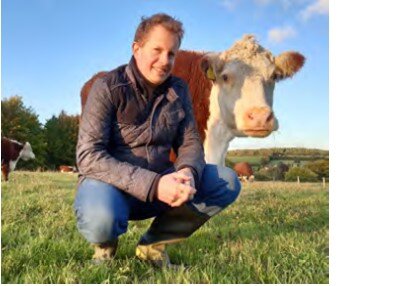 Knepp Estate has been working at the forefront of nature conservation with its pioneering rewilding approach for the past 20 years and is now set to launch a companion regenerative farm, with soil health and food production as its primary objectives. It hopes to demonstrate how rewilding and regenerative agriculture can work together, building a resilient, productive, biodiverse countryside for the future.
The new project will be established on land adjacent to the Estate's rewilding project and will initially host organic pasture-fed cattle, a pastured poultry enterprise and a market garden. Produce from the farm will supply a new farm shop and café due to be opened in 2022.
With Countryside Stewardship backing, the farm will be designed so as to create nature corridors to connect wildlife with existing and new habitats. Baseline surveys are already underway to identify the condition of the soil, species abundance, water quality and other natural assets from the outset. These will then be monitored for improvement as the project develops.
Leadership
Russ Carrington, who, as General Manager of the Pasture-Fed Livestock Association, has been working with regenerative livestock farmers for the past 10 years, has joined Knepp to get the project off the ground. Russ brings a wealth of knowledge and experience on transitioning to regenerative agriculture and is connected with a vast network of like-minded farmers and contacts from around the world. He is particularly keen on developing a close and honest farm-to-fork relationship with consumers.
"We're so excited to have Russ joining us to lead this new project – something we've been longing to do for some time" said Charlie Burrell, owner of Knepp Estate.
"With plans for our new farm shop and café now approved, and funding secured for a state-of-the-art butchery facility, we're now ready to go with our regenerative farming enterprise. For us, rewilding and regenerative farming go hand-in-hand. It's the sustainable, productive, wildlife-friendly future of our countryside."
What is regenerative farming?
Regenerative Farming is a relatively new approach to farming that seeks to regenerate the land, soil and water, as well as enhance the wider environment and improve the nutrient density of food produced. However, the prescriptions are not rigid as every farm is different with its own set of unique circumstances, soil type and geography.
"Farming in a regenerative way is more about farming in a particular direction and following core principles rather than being defined by specific end goals," said Russ. "Farmers are facing a challenging economic climate with many uncertainties, but there is increasing clarity about the direction of travel. The vision of this project is to deliver multiple 'public goods' for the local community and wider society – healthy food, of course, but also better soil, clean water, clean air and habitat for wildlife, and – all the while – sequestering carbon to help combat climate change."
"I'm delighted to be joining the Knepp team to deliver a new approach to agriculture alongside an equally fascinating approach to nature conservation. The learning is going to be huge and I'm really looking forward to sharing this journey with anyone that wants to come along."
Find out more:
Russ will be hosting various webinars and farm tours as the project progresses – visit Knepp's dedicated Regenerative Farming page here for more information or follow @KneppRegenFarms on Instagram.