Isabella Tree, co-owner of Knepp Estate, talks about the trials and tribulations of TB-testing our free-roaming longhorn herd
Today, April 9, 2020, feels like the end of a long and painful journey. We finished TB-testing our old English longhorns and we're almost literally jumping for joy. All the cattle are clear and we're now back to four-yearly testing – the normal procedure for low risk TB areas in the UK.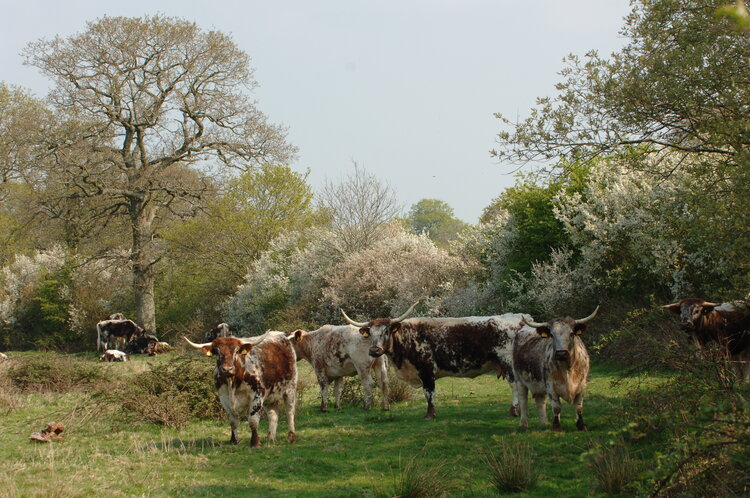 Bovine tuberculosis – TB – is an infectious respiratory disease of cattle caused by the bacterium Mycobacterium bovis which can infect other mammals including deer, goats, pigs, cats, dogs and badgers. It can also infect humans, and used to be a common problem for farmers and their families in the distant past. Now though, according to DEFRA and the Health Protection Agency, the risk to people of contracting TB from cattle in the UK is extremely low.
It's not a particularly serious disease for the cattle, at least in the short-term. They can live with it for quite a while without adverse effects, though it is a progressive disease so the older the animal (which isn't that old in the conventional meat and dairy industry) and the longer it has had it, the more likely it is to experience unpleasant symptoms. The main reason for culling all TB-infected cattle, or even those suspected of having it, is to try to eradicate the disease entirely.
Discovering TB in your herd strikes dread into the heart of any farmer. So it was with horror that, three years ago, we were notified by the Animal and Plant Health Agency (APHA) that a cow had reacted positively to TB on a farm a stone's throw from Knepp. When this happens APHA draw a three-kilometre circle around the farm in question and any holding that falls within that zone – even if it's just a corner of a field – has to test all their cattle.
We were stunned. Our part of West Sussex has long been TB free. Most dairy farms in our area have closed herds, breeding their own replacements. But with the spring flush of grass many farmers and landowners see an opportunity to import beef animals to graze their land, fattening them up – or 'finishing' them – for market. They contact local dealers who organise the transport of store cattle from markets at Salisbury, Exeter and Frome.
Those defending the trade argue that animals leaving the West Country will have been compulsorily tested for TB. But the test, which involves injecting two types of tuberculin serum into the neck skin to elicit an inflammatory response in an infected animal, is not infallible. Research estimates that 25-50% of recurrent TB breakdowns are due to infected cattle not being detected by the skin test. Inevitably, TB-infected animals slip through the net and enter the live markets.
And the infection can be spread in other ways – on the wheel arches of livestock lorries or even the traders' wellington boots. This high-risk trade in cattle from the West Country not only threatens the livelihood of responsible dairy and beef farmers in low-risk areas like ours, but it could risk the disease spilling out into badgers and deer, which could ultimately involve a wildlife cull – something that particularly concerns us at Knepp, being primarily a nature conservation project.
For most farms, the actual process of TB-testing is quite straightforward. Cattle kept in enclosed fields and buildings are easy to catch up and are used to being continuously handled. But at Knepp it's a considerable challenge. Our longhorns, though remarkably docile, spend most of their lives roaming free as conservation grazers in the rewilding project – a landscape that now looks and feels like the African bush. It's astonishing how these huge animals with sweeping horns and mottled brown and white coats can melt into the vegetation, particularly in the 430-hectare Southern Block where they browse and graze amongst thickets of hawthorn, dog rose, blackthorn, sallow and brambles.
Mustering a dispersed, semi-feral herd of longhorns across thorny, heavy clay terrain, on foot, is an art that our stockman Patrick Toe and his trusty assistant Craig Line have somehow managed to perfect over the past few years. Their technique, adopted from the low-stress stockmanship of the late, great American cattle whisperer Bud Williams, involves astonishing patience, intuition, dexterity and fitness. It takes an enormous amount of human effort, and every single cow in 3,500 acres has to be found and tested or the exercise is worthless.
Pat the Stockman during a cattle round-up, using the Bud Williams technique
From the initial test Pat and Craig carried out at Knepp on more than four hundred longhorns we had two inconclusive reactors – that is, cows that showed some form of reaction to the test. This is not unusual and need not actually prove TB. After quarantine and re-testing sixty days later those two cows then tested negative. Six months later we tested the entire herd again. The same two animals were, again, inconclusive reactors and, once again, every other animal tested negative.
We quarantined the two cows with inconclusive tests, as per regulations, and re-tested them sixty days later. To our dismay, this time, one of them tested positive. She was taken off to be killed, and further tests were taken from her carcass – all of which came back negative. On our vet's advice we decided to leave no conceivable question marks and killed the second cow since she had had prolonged direct contact with the one that had – initially, at least – reacted positively. Tests were done on her as well by the APHA at their laboratory and though negative at her last skin test, she was positive in the first lab test. She subsequently tested negative in further lab tests.
So where does that leave us? Almost certainly, according to our vet, to have had no TB in our animals. But we are more acutely aware than ever of the catastrophe that would befall us, our livestock and wildlife in the wider landscape should TB ever raise its head at Knepp. Over twenty years, since the rewilding project began, our longhorns have adapted to living the wild life. They know where the best watering and wallowing holes are, how to self-medicate with herbs and sallow, where to find swathes of nettles to replenish their iron reserves after calving, to hole up in a storm. The herd itself is dominated by wise old matriarchs who keep the raucous young bloods in check and pass on their knowledge to the next generation – much like herds of elephants in Africa. Culling our free-roaming herd – something we would have to do if we were found to have TB – would lose all this knowledge and experience.
TB is currently a risk that responsible livestock managers like ourselves could – and should – do without. We urgently need to protect low-risk and TB-free areas like ours from high-risk cattle imports. It is a question we raised with our local MPs, and the Hon Sir Nicholas Soames has been particularly sympathetic. In 2018 he raised parliamentary questions on our behalf which resulted in the then Minister of State for Agriculture, Fisheries and Food, George Eustace, making some changes in regulations. Now, if you import animals from a high-risk into a low-risk area and they are found to be carrying TB you will be compensated for only 50%, rather than the previous 100%, of the value of the animal,
We hope this will put some sort of brake on the import practice but the reality is there are still a lot of traders out there, many of them notoriously unscrupulous, all of them keen to make a fast buck. Without proper legislation to restrict the trade we worry that we will continue to face TB outbreaks in West Sussex and find ourselves on the nerve-wracking, confusing and exasperating merry-go-round of testing all over again.
Meanwhile, though, we can breathe a sigh of relief. Despite the anxiety of Covid-19 in the wider world, the most beautiful spring has sprung. Nightingales, cuckoos and turtle doves have arrived from Africa earlier than ever before. And our longhorn cattle, looking sleek and contented with the new flush of grass, have begun calving. They can, at least, look forward to four years without being harassed by TB testing.