The first day of November saw a bright half-moon hanging above the garden by 4.30 in the afternoon like a slice of lemon. A welcome calm after a maelstrom of stormy gusts and rain-filled winds in late October formed a vortex around the castle, bringing down the topmost limbs of several veteran oaks on the driveway. A rewilding perspective changes the angle from which we view these seemingly sad events; the cattle gather and browse the fallen trunks, rubbing their backs on bare horizontal branches and feast on the still-green tender stems. Smaller oaks grown up beside their bigger siblings will revel in the increased light and rainfall. Saprophytic fungi will colonise the decaying wood and flightless insects will find an abundance of dry, safe nooks in the deeply fissured bark. There are no catastrophes in natural processes, only new opportunities for a diverse range of species.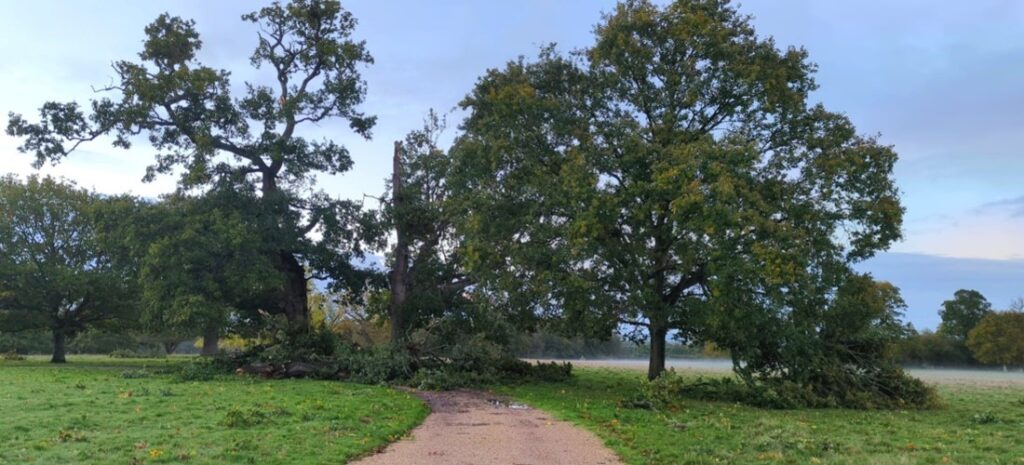 Out by the orchard, Suzi has been continuing to tend and monitor our four compost bays since late summer, building up a working relationship to learn how to manage our heaps as well as we can. By giving them more dedicated time, she has been able to respond to what the working bay is telling her. Running a hot system is something akin to cookery; blasting at elevated temperatures (65°C) for a minimum of two weeks, six weeks or so cooking at slightly lower heat (40°C+), then anything up to six months 'slow cooking'. It is a fine balancing act between killing weed seeds and potential bacterial diseases, and eliminating all the beneficial life. She keeps a close watch on the thermometer. The high heat needs to be kept up in a full bay so management is dictated by what material has made the heap. Adding woodchip and turning the heaps to add air can bring the temperature up -,or down, if there is a lot of dry material. Like a cake, we don't want the sides to be burnt and the centre to be soggy.
At one stage, too much woodchip was added and a festival of fungi ensued. We happily admit we are not scientists, but it was making Suzi cough and smelt weird, so it was an easy lesson to use her senses and respond by adding more fresh green. The lower heat and the carbon in the woodchip stimulate the microbial life. As the microbes multiply and feed, breaking down the cell walls of the green and brown garden waste, they increase the heat by their activity. Then the bay is covered to keep windblown seeds out, and it is left to mature until we spread it onto the no-dig veg garden beds. Here they interact with the roots of plants in a mutually beneficial exchange of nutrients and sugars. Biodiverse and active compost unlocks nutrients and minerals in the soil, can inoculate plants against diseases, and produce resilient, high-nutrient, tastier foods and healthy, floriferous plants – well worth all her time and effort.
In the garden, along with surveying the soil for chemical and textural properties, we wanted to gain some more in-depth insight into the soil biome and what, if anything, might be living in the sand and crushed concrete of the rewilded pool garden. Luckily, Kate Gatacre who is head grower at Linley farm in Shropshire, has kindly offered us her skills in testing for bacterial and fungal biomass ratios while she studies to gain her lab qualifications. Her reports came back this month from samples she had taken in June. There was not a great deal of difference between the various mixes of concrete and sand, and as she suspected at this early stage of planting, very few micro-organisms. There were some bacteria present in variety, but very little in the way of fungal hyphae, protozoa, or nematodes. By far the most active and biodiverse soil was in the vegetable beds. Since these have only been established since the winter of 2020, we were pleased how much more active, healthy life had come into the garden in such a short space of time.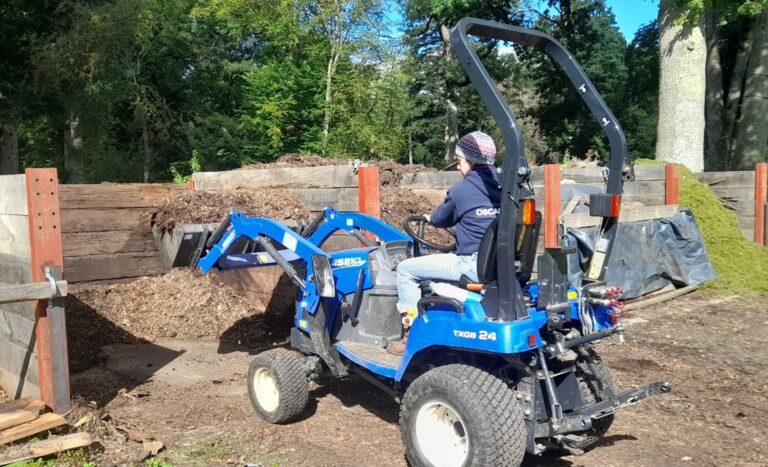 For most of last year, our eyes have been on the rewilded pool garden. Ensuring the 15,000+ plants and seedlings were able to establish during the droughts and deluges of their first year meant thinning out any overly competitive plants like annual grasses, docks, nettles and thistles from the latent seed bed or wind-blown seed. We spot-watered struggling woody plants in the 36° C heatwaves and collected seed and cuttings for future stock to diversify areas that might become too monocultured.
The upshot of all this activity meant the kitchen garden, the more established of the two areas, has received less attention. The new planting here is a year older and, with the existing structural plants from Georgia Langton's original design, the garden is more mature, more packed, with more self-seeders – 'wilder.' Now the season has slowed down, we want to try and sustain this complexity through the winter. Taking stock of the ratio of trees and shrubs, the browns of dead stems and seedheads, dark, open soil and green plants, our focus is foremost about the needs of wildlife – to leave as many niches, food sources and habitats as possible. We are also trying to create an aesthetically pleasing space, where the broad vista and detail creates interesting shapes and contrasting shades in slanting winter sun or darkening skies. Not an exact science, but an ongoing study. Rather than clearing dead leaves and stems all at once, we remove a little of the worst for the compost, leaving as many uprights and seedheads as possible. We wind round 'messy' oyster-hued geranium stems into nest-like swirls, clear fallen stems into hummocked piles at the base of the evergreen yew columns or against the drier bases of the walls at the back of the beds. They make winter protection for insects and food for spring immigrating birds. We had saved last year's hollow-stemmed, seven-foot artichoke stalks and bushels of bergamot (Monarda fistulosa), their bobbled seedheads still intact. We experimented, pushing stands of them into the soil at intervals where areas were predominantly populated by died back perennials, creating more visual complexity, perches for small birds, and dry hiding places for insects.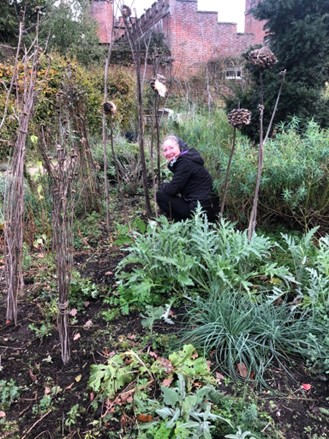 The need for dry habitat was highlighted mid-month with days of heavy rain that flooded and closed roads, raising the water level of the ephemeral pond in the rewilded pool garden to its highest point since it was created. Having planted hundreds of bulbs in the sandy bowl a month ago, we will just have to sit tight until spring and see if they survive the wet, along with the perennials and grasses like the iris 'Black Gamecock' and Chinese silvergrass (Miscanthus sinensis). The Met office recorded that Sussex exceeded twice the long-term average amount of rainfall. If these weather extremes continue in the future, we can only monitor the changes in the garden and study what wildlife those changes might benefit.
The effects of climate change were high on the news agenda as COP27 got underway in Egypt. The positive headline to emerge was that after almost thirty years of campaigning an agreement was reached for a loss and damage fund to be set up for developing countries devastated by extreme weather events. However, no accord was reached regarding how the money would be provided or from where. It is easy to feel that if world leaders cannot agree to take definitive action, there seems little hope for us to make an impact on the decline in biodiversity and health of the planet. But what we can control is our relationship with the earth. As Robin Wall Kimmerer says in her book Braiding Sweetgrass "The circle of ecological compassion we feel is enlarged by direct experience of the living world and shrunken by its lack." Spending time in our gardens with a mindset of respect and wonder for everything that lives within it is surely a good place to start.
Moy Fierheller     Deputy Head Gardener     November 2022
What we're reading
Braiding Sweetgrass Robin Wall Kimmerer
COP27: Delivering for people and the planet | United Nations
Lost Species Day 2022: Queer(ing) Ecological Futures – O N C A
Plant species or flower colour diversity? Identifying the drivers of public and invertebrate response to designed annual meadows – ScienceDirect
Jon Hazelwood (@jonhazelwood01) • Instagram photos and videos
An Autumn Science Lecture with Dr Jill Kowal Tickets, Thu 17 Nov 2022 at 19:00 | Eventbrite